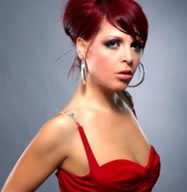 Upcoming Saturday, th 12th of March is the date when we finally get to hear the new version of "Kënga ime", or better said "Feel the passion". Together with the video, which is still being finished these days, the song will be presented at the date when all countries have to officially present their songs and representatives to the EBU.
The video shoot is almost completely done, only one scene is missing for which sunshine is needed according to Aurela. The last days have been all cloudy in Albania and so does the clima slow the videoshot process. Let's hope for sun then :)
We want to remind that we take that day to upload our new design for the blog banner and more announcements, so be prepared...